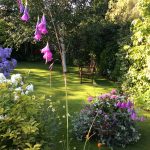 As drainage contractors in Holmeswood, we are also are groundworks specialists. We have the solution to your drainage issues in your garden and also the foundation of buildings. If you are planning to build a new structure, you need a drainage contractor before the foundation goes in. We will run tests to determine how well the property drains at the building site. We will then design and install a drainage system beneath the foundation that will allow water to properly drain away. A drainage system can be installed for an existing building; it's just easier to do that before the building is built.
Before we install all new landscaping at your home or office, we check the ground for areas of poor drainage and/or flooding. That's why in Holmewood, drainage contractors are important to have as part of a landscaping crew. If previous plantings died off after rains, it could be caused by too much standing water. Perhaps certain sections of your garden flood during rains or grassy areas become muddy. These are signs of poor drainage. Before we re landscape your property, we will design a drainage system. The water has to drain to somewhere, so if there's a lot of water drainage, we may need to build a water retention area on lower ground.
As your drainage contractors in Holmeswood, as well as your landscaper, we know how to combine the two phases. Once we complete the landscaping you'll never see the parts of the drainage system. Getting the job done right is especially important if you have nearby neighbours. If your landscaping and drainage work is poorly carried out, you could cause your neighbour's property to flood. That could cost you money and a lawsuit. Contact Greenkeeper Lawncare so we can make sure the groundworks are properly prepared before you invest in new landscaping or make adjustments to your current garden. We'll make sure the whole job is completed so your garden looks beautiful and drains properly. Everyone on our staff is fully trained, equipped and experienced in all areas of drainage and landscaping and maintenance.