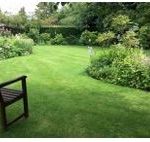 Creating a lush lawn is just the first step to ground maintenance service in Wigan. As with all living things, lawns need ongoing maintenance to stay healthy and gorgeous. We can create a thick green carpet for your domestic garden, business or sporting grounds with golf course beauty and durability. Without conscientious maintenance, it will show signs of deterioration. If you are a homeowner, you may assume some of the maintenance responsibilities yourself. Watering and mowing are often undertaken by the homeowner while calling on us for weeding, fertilization and aeration. Often working people do not have the time, skill or desire to manage these tasks.
Businesses, government facilities, schools and sporting fields find it's more efficient and cost effective to leave the maintenance to us. In Wigan, ground maintenance service from our groundskeepers is comprehensive. Our services include design, lawn care and maintenance, tree surgeon skill to care for trees, selection and care for ornamentals and flowering plants. Included is mowing, weeding and watering of all plant life. Our services are offered on a contract basis and personalised to meet your needs. A full maintenance service is available to homeowners as well as commercial customers. When you count the cost in equipment, supplies, time and skill to do it yourself, we think you will find our prices reasonable.
Don't underestimate the importance of ground maintenance service in Wigan to your commercial enterprise. A professionally maintained groundscape is your first welcome to customers and clients. Their first impression of you will be formed before they ever enter your building. What if they see a scraggly lawn and building foundations bare of the softening effects of plants? What would your own first impression be? Maybe the client or customer would conclude that your business is conducted in a slipshod manner. They may even take it as a sign that your enterprise is not financially stable. Contact Greenkeeper Lawncare and welcome all to your door with golf course quality lawns, well-tended trees and a buffer of greenery and flowers that soften the aesthetics. You and your staff will find working in such an environment soothing to the soul and a treat for the eyes.