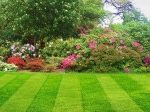 Ground maintenance service in Liverpool will provide year round care for your lawns and gardens. We use our extensive knowledge to keep your lawn and garden in perfect condition. Your lawn may have been neglected but we specialise in lawn regeneration where we bring the lawn back to life and then keep it healthy with regular fertilisation and mowing.  We also make sure that we keep the weeds under control as nothing ruins a perfect lawn like the sprouting of dandelions and other unwanted plants.
If your garden has grown a little wild over the spring we can have it looking beautiful in a very short time. In Liverpool, ground maintenance service can have your lawn lush and weed free in no time. We will first evaluate the lawn and find the cause of the problem.  This could be widely varied from lack of light where the trees shade the lawn to damage caused by wildlife or insects.  Some lawns are overrun by moss or have fungal diseases.  We will treat these and can spot treat any recurring outbreak.  If your lawn is incorrectly mowed, you can damage the grass. We can take a garden that is in very poor shape and can cut back and prune the larger shrubs and top dress the lawn and over sow grass seed.  With care, you can have a perfect garden that can be enjoyed by all.
Ground maintenance service in Liverpool is essential when you are busy and have no time to care for your garden. Contact Greenkeeper Lawncare today and see how our experience can make a difference to your garden.  We are trained green keepers and have years of experience in caring for and creating the perfect grass for golf courses.  This is lawncare to perfection as the greens need to be blemish free. Each blade of grass must be equal to its neighbour and no weed is allowed to spoil this perfection. We can have your lawn looking like a golfing green, smooth, soft and luxurious.