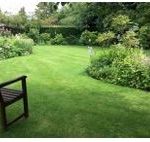 Using professional lawn services in Bolton is the best way to keep your patch of green looking healthy and fresh. At Greenkeeper Lawncare, we provide end to end solutions that cover every aspect of landscaping. Lawn maintenance is as important to the value and appearance of your property as keeping the building in good repair. A well-kept lawn is a great indicator of how much care the property owner takes of the premises. That's why you hardly ever see a badly-maintained lawn and garden in a well-maintained home. The two go together. Smart home-owners know that there are certain costs involved in keeping the entire property in good condition and they seldom neglect one part of it. The overall value of your property is judged by the whole appearance, and not just on one part.
Our trained, experienced and knowledgeable lawn-care professionals can provide customised treatments to suit your particular needs and budget. In Bolton, lawn services like ours understand that regular maintenance is key to ensuring the health and good looks of the lawn. We offer lawn regeneration programs to tackle problems of ill-health, regular mowing to keep it looking neat and manicured, and provide regular applications of fertilizer and weed-control. We have incorporated many of the concepts from professional greens keeping that are used in golf courses and adapted them to suit home-owners' lawns.
A healthy, lush, green carpet is what all lawns should ideally be. This is what a good lawn service in Bolton can ensure. As professional gardeners, we know that whether you have a large or small plot of lawn, it needs to look perfect. Grass needs three basics to survive – water, sun and rich soil. Apart from these, keeping it disease free, healthy and nurtured ensures that your lawn will be the greenest patch in the neighbourhood! Contact Greenkeeper Lawncare if you need a lawn service. Our professionally trained experts can test the pH levels in your soil and advise you on what kind of soil mix you need. Leave the job of caring and maintaining your lawn to the experts, while you concentrate on enjoying the beauty and charm of the perfect lawn!