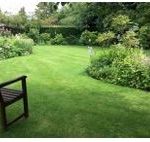 Have you ever wished for lawn maintenance in Formby such as golf courses receive? Greenkeeper Lawn Care does just that for homeowners. They bring their commercial golf course maintenance skills to your back yard. Greenkeeper Lawn Care can take your scraggly lawn and turn it into a healthy beautiful framework for your home. A well tended lawn will add curb appeal and value.  Once your lawn is established, Greenkeeper Lawn Care will give you tips for proper maintenance or if you choose, they will continue to maintain it for you. By hiring the professionals, your lawn maintenance is year-round with scheduled fertilisation, aeration and scarification. Weekly weeding and mowing is available as well.
In Formby, lawn maintenance undertaken by the professionals at Greenkeeper Lawn Care follows a proven plan of action. Others might strip the lawn down to dirt and lay new turf. Your lawn looks wonderful right away. However, by the end of summer homeowners often begin seeing the same signs of lawn decline they found in their old lawn. Greenkeeper prefers the more sustainable method of restoration and revitalisation of your weedy droopy lawn. They get to the root of the problem by testing the soil, treating to remove insect infestations and burrowing animals. Trees may need trimming for more sun penetration. Scarification or dethatching will thin thatch and moss so new growth is not inhibited. Aeration to allow the soil to breathe will stimulate and encourage new growth.
Lawn maintenance in Formby to rejuvenate an unsightly lawn will include proper fertilisation according to soil structure. After that, Greenkeeper Lawn Care will spread a good over seeding with top quality seed suited to your location and a temporary seed protection. The lawn that sprouts will be healthy and sustainable with good follow-up care. Greenkeeper Lawn Care will advise you of proper mowing practices that will prevent damage to your lawn. They will also explain fertilisation frequency so your soil stays nutrient rich. Those who want to enjoy a healthy lawn, not work at it, schedule regular maintenance with Greenkeeper. Contact Greenkeeper Lawn Care for more information about lawn maintenance.