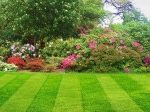 A ground maintenance service in Bolton is necessary for commercial businesspersons if they want to present well maintained grounds to their customers. Unkempt grounds might indicate to customers that not much care goes into the products and services you offer. Once you see the beautiful gardens that Greenkeeper Lawncare maintain, you'll know you never need worry about things like weeding, planting, mowing and fertilizing again. What people appreciate about Greenkeeper Lawncare is that they're not just ordinary gardeners, have gained immeasurable experience from golf course management. We've all seen how immaculate the greens are on a golf course, and Greenkeeper Lawncare put in the same meticulous work into all their gardens.
The very name 'Greenkeepers' is synonymous with thoroughness. In Bolton, ground maintenance includes making use of modern, robust equipment to get your small or large gardens looking picturesque and loved. Apart from doing jobs like mowing, planting and weeding, they go the full hog when it comes to landscaping, and this means that they have all the best equipment too. They offer a wide range of services for small suburban gardens to business grounds and sports fields. All their services are managed by qualified greenkeepers, and this ensures excellence every time.
Ground maintenance services in Bolton aren't all the same. Services are tailored to your unique garden. They are all qualified with at least a national diploma in Sportsturf so they know precisely how to treat that area where the grass won't cover. Contact Greenkeeper Lawncare for more information about a ground maintenance service. Spring time is always a great time to book their services, but their passion and knowledge extends to all the seasons, making them a go to company favourites in all the areas they serve.