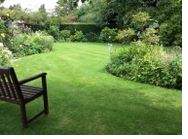 Finding A Lawncare Service In Southport that will meet you needs perfectly in the shape of Greenkeeper Lawncare; the experts in all aspects of maintaining your lawn. Differing from their competitors, the team at Greenkeeper Lawncare are all qualified greenkeepers who have transferred their skills in dealing with golf courses to the domestic market.
Southport is just one of the area in Merseyside/West Lancashire that Greenkeeper Lawncare provide their lawncare service. Meticulous in their planning, they assess what the customer requires, delivering a comprehensive service in response. Many of the lawns they encounter need regeneration-due to weather or inability to maintain-so the team are adept at managing the process to bring your lawn back to a lush and green appearance.
By implementing regular programmes throughout the year, Greenkeeper's lawncare service in Southport will over the course of year, maintain your regenerated lawn, using certain treatments, fertilisers and regular mowing, so your lawn benefits from a regular lawncare maintenance.