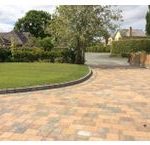 Greenkeeper Lawncare brings you effective, reliable drainage contractors in Wigan and Lancashire areas. We have top quality solutions for your domestic, commercial and industrial problems with drainage issues. With over fifteen years of experience in the field, we have developed a comprehensive list of services and our specialists are perfectly capable of handling a diverse range of issues you may face. Drainage can become a major problem if it is not installed correctly and attended to from time to time. Some of the common problems faced in this context are blocks, water logging, pooling near the foundation or on lawns due to faulty installation or irregular maintenance. Durable foundation solutions is also a service that we have expertise in. We provide top-notch, customised solutions at affordable prices. From mowing lawns to landscaping of rolling golf greens or maintaining a cosy cottage garden, our meticulous and dedicated approach has satisfied many customers to date.
Our highly trained, experienced technicians for drainage and groundwork solutions understand the importance of quality, reliability and prompt service for the kind of projects they undertake. In Wigan, drainage contractors like us can also mow, trim, weed, dig, plant, water and treat for pests – in short, all the things that you need to do, but just don't have the time for. Our turfing techniques can be customised to suit any requirement. Assessments for pest eradication, fertilization, damage control and maintenance can be contracted for.   The work involved needs to be durable, effective and rock solid, as they say! As our name suggests we are keepers of your greens in every sense of the word. From laying them to maintenance, we ensure that our clients get the idyllic place they desire.
Our drainage contractors in Wigan and surrounding areas have taken ground works to new and exciting heights! We know the importance of ambient surroundings for creating a good impression on clients in business environments. We also know how pristine environs can inspire and provide harmony and peace, increase productivity and give your property enormous resale value. When you need the services of professional drainage contractors, contact Greenkeeper Lawncare. Our prices are sensible and affordable.