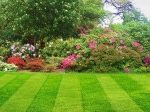 Drainage contractors in Burscough who work with Greenkeeper Lawncare are the experts to go to for complete services in groundworks, garden-care and maintenance of residential, office and sports premises. As specialists, our contractors are well versed in solutions required for laying and maintaining green cover and all that goes with it, which includes the top green cover contributed by trees as well as the ground. As qualified greens keepers, we can take care of all aspects of landscaping, laying and maintaining lawns and related drainage solutions, which are e crucial for that manicured, well-tended look all the year-round.
As with other places, in Burscough, drainage contractors generally face problems of two kinds, namely, surface and sub-surface water collection.  Surface water is water which collects above the ground on lawns or driveways and remains stagnant. Sub-surface water is water that is trapped below the visible surface. These pools of water may add to unfavourable conditions for the healthy growth of plants. Water trapped below the ground also tends to expand when frozen, thereby damaging landscaped surfaces or paving. One of the reasons for water collection both above and below the ground is poor drainage. This is where our professionals come in. Their experience and expertise are invaluable in advising clients on proper grading of the land to ensure a good drainage system. Grading works need to be planned and completed before landscaping or renovation projects are undertaken.
At Greenkeeper Lawncare, our expert drainage contractors in Burscough have solutions to most drainage problems. A comprehensive service package takes care of minor, every-day as well as major, long-term problems. Channels, grates and filters can ensure quick transport of surface water away from problem areas. We try to see that rainwater is utilised to the maximum and the excess is flushed away. Our bespoke grading techniques prevent water stagnation. Contact us today if you are looking for professional drainage contractors. In addition to drainage solutions, we also offer maintenance of your flora and fauna on a regular basis and treat for fungus, thatch or insect infestations. Fertilization and weed control programmes are also part of the services on offer.