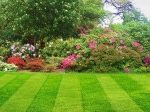 Why not entrust commercial lawncare in Chorley to the specialists so that you can concentrate on your core business? We are proud to offer top quality lawn maintenance and care to the  domestic, commercial and industrial sectors. We are fully qualified grounds-care specialists, with experience and expertise in a comprehensive range of drainage, building, lawn-care, and sports grounds care. Most of our business comes to us via word of mouth recommendations from satisfied clients and we are proud of our reputation for excellent workmanship, cost-effective solutions and our customer-centric approach. No matter how big or small your project, we tackle it with the same degree of enthusiasm and dedication. Our lawn regeneration service is one of the most popular items on our service list. We examine the entire lawn and grounds thoroughly before coming up with a diagnosis and recommending a treatment.
Our regular programs include weed control and fertilization, mowing, maintenance, handling lawn issues, aeration, top dressing, and moss control. In Chorley, commercial lawncare is best left to a professional firm. This is certainly not a DIY job, however much you enjoy gardening and working on the earth. We have the right equipment, tools and experience to ensure that the job is completed perfectly. Since we have an in-depth knowledge of all aspects, we pay attention to safety too. You need to maintain an attractive, well-groomed landscaped grounds outside your office, hospital, educational institution, restaurant or hotel building, factory or commercial space. This reflects the general philosophy of care and attention to detail that customers look for. Trying to keep routine maintenance duties in-house may be stressful and expensive. That's why entrusting these duties to a professional firm like ours makes a lot of sense.
Though you may get initial savings with cheap commercial lawncare in Chorley, the hidden costs could drive the project into the ground. A professional solution provides convenience, better and more long lasting results and higher safety values. Contact us for more information about our commercial lawncare service.  Many businesses try to cut corners by hiring cheap labor and they get mediocre results. These types of solutions depend on trial and error solutions, cheaper products and low levels of experience and expertise.